MIRACLE IN CELL NO. 7 (2013)
Thank you for … for being my daughter. – Lee Yong-gu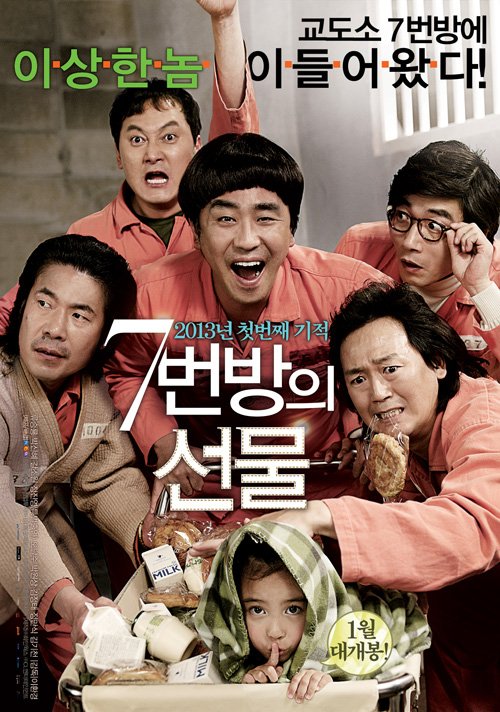 The film is about a mentally challenged man wrongfully imprisoned for murder, who builds friendships with the hardened criminals in his cell, who in return help him see his daughter again by smuggling her into the prison. (Wikipedia)
MAIN CAST
Ryu Seung-ryong as Lee Yong-gu
Kal So-won as Ye-sung (Child)
Park Shin-hye as Ye-sung (Adult)
FANGIRL NOTES
2013 South Korean comedy-drama film
The film's early working title was December 23
On March 15, 2013, 52 days after its release, ticket sales reached 12.32 million, making it the fifth highest grossing Korean film of all time.
The film was also adapted in the Philippines with the same title, starring Aga Muhlach, Bela Padilla and Xia Vigor.
FANGIRL FEELS
There are no words to describe how I truly feel about this movie. It was a complete emotional roller coaster ride. I watched it for the second time and still I cried.
It's not just a movie but a piece of art that seriously touches you deep within. One of the best Korean movies I've seen.
This movie is a real tear-jerker especially at the last part.
What I see and feel in this movies is just love in the purest kind.
The cast did a great job on portraying their individual roles.
Ryu Seung Ryong did a extraordinary job in believable portraying a mentally disabled person.
The little girl Kal So-won as Ye Sung, she was amazing.
The father and daughter bond was for me the driving force of the story.
The relationship between Ye Sung and the prisoners of cell No.7 was definitely the highlight of the movie.
To anyone who is debating on watching this movie. Just watch it. Its worth every minute.
OVERALL
Well-worth watching. Touching. Funny. Heart-wrenching. Make sure to watch this with a tissue box!
My Rating – 9.5/10
YOU MIGHT ALSO WANT TO READ : NO BREATHING (2013)
What do you think about Miracle in Cell No. 7? Share your 'feels'!