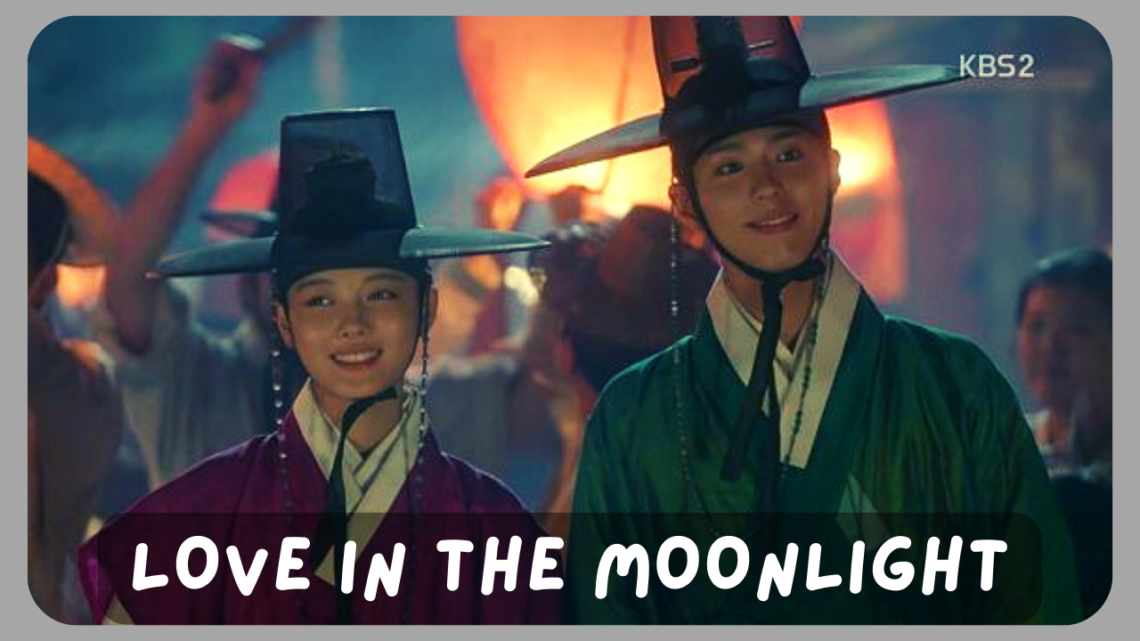 Love in the Moonlight (2016)
You cannot take back the words spoken, you take responsibility of them. – Crown Prince Lee Yeong
DRAMA PROFILE:
Title:

Love in the Moonlight

Episodes:

18

Aired:

August 22, 2016 until October 18, 2016

Original Network:

KBS2

Also known as:

Moonlight Drawn by Clouds

Genre:

Historical / Coming-of-age / Romantic-comedy

Written by:

Im Ye Jin and Kim Min Jung

(Who Are You:School 2015)

Directed by:

Baek Sang Hoon (Descendants of the Sun), Kim Seong Yoon (Who Are You:School 2015)

Main Cast:

Park Bo-gum,

Kim Yoo-jung, Jinyoung, Chae Soo-bin, Kwak Dong-yeon

Synopsis:

Hong Ra On disguises herself as a man and counsels men on dating. Due to a love letter she wrote for a client, she meets Crown Prince Hyo Myeong. Ra On is unaware that he is the Crown Prince and Hyo Myeong is unaware that Ra On is a woman. The Crown Prince becomes interested in Ra On. His eunuchs become aware of this and attempt to get Ra On to become one of them. (Source: MyDramalist)
K-DRAMA FEELS
There is a balance between your heart fluttering moments of pure fluff, moments that will make you laugh and the absolutely heart-wrenching moments.

Love in the Moonlight is a feel good series where you can laugh and cry at the same time.

The general performance of the whole cast was exemplary.

Park Bo Gum's presentation of the crown prince Lee Young was all in all praise worthy. He was charming, and he can tell so many things with only the eyes.

Kwak Dong Yeon really captured my attention as Byung Yeon, the Guard that stole everyone's hearts. The only character that made me actually cry.

I love the "Bromance" of Lee Yeong and Byung-yeon.

I like the chemistry of the main leads, they are exceedingly cute together. There is a "Kilig Factor" for me.

This drama has a very good collection of OST. My faves : Moonlight Drawn by Clouds by Gummy / My Person by Park Bo Gum

If you're in the mood for a sweet love story that makes you happy, lighthearted and hopeful in the end and your a lovers of historical romantic dramas, I recommend you watch this drama.
My Rating: 8/10 (I became a K-drama fanatic because of this series.)
Have you watched Love in the Moonlight? Share your 'feels'!
Let's connect!