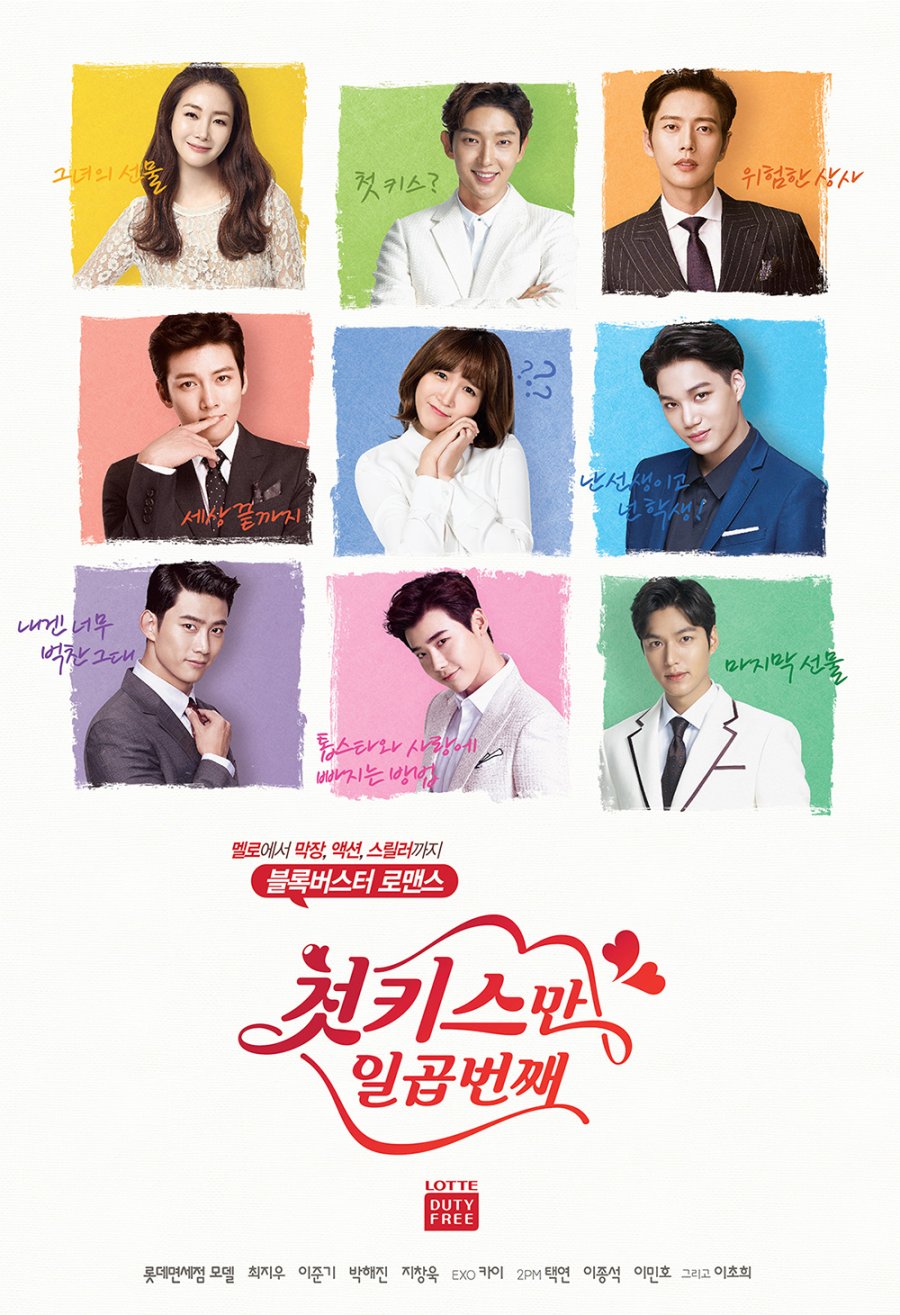 Min Soo-jin (Lee Cho-hee) is a Lotte Duty Free store employee who has never been in a relationship before. One day, she meets with the goddess of date (Choi Ji-woo) who grants her an attempt to pick the perfect partner for her first kiss among seven men. Her options are firstly, a religious tech billionaire (Lee Joon-gi), a serious yet romantic boss (Park Hae-jin), a sexy secret agent (Ji Chang-wook), an adorable younger male friend (Kai), an innocent chaebol heir (Ok Taec-yeon), a beloved K-idol (Lee Jong-suk) and finally a free-spirited travel writer (Lee Min-ho). (Wikipedia)
MAIN CAST
Lee Cho-hee as Min Soo-jin
Choi Ji-woo as Goddess (Ep. 1, 7)
Lee Joon-gi as himself (Ep. 1-2)
Park Hae-jin as himself (Ep. 2-3)
Ji Chang-wook as himself (Ep. 3-4)
Kim Jongin as Kai (Ep. 4-5)
Ok Taec-yeon as himself (Ep. 5-6)
Lee Jong-suk as himself (Ep. 6-7)
Lee Min-ho as himself (Ep. 8)
FANGIRL NOTES
Also known as Seven First Kisses, First Kiss for the Seventh Time
Genre : Romance / Comedy
7 First Kisses is a South Korean promotional web series produced for Lotte Duty Free Shop.
It premiered online through Naver TV Cast and YouTube from December 5, 2016 to January 5, 2017.
FANGIRL FEELS
Each episode featured a different star, and a different drama cliche plot line condensed into 10 minutes.
Three out of the seven celebrities are favorites of mine : Lee Joon Gi, Park Hae Jin and Ji Chang Wook.
Story-wise, I thought Ok Taec Yeon's was the funniest and Kai's noona storyline was cute as well.
I recommend this if you are just looking to fill about an hour or so and have nothing better to do. Watch it for some eye-licious time.
OVERALL
It's a purely fun watch so don't expect great stories.
My Rating – 7/10
YOU MIGHT ALSO WANT TO READ : CHEESE IN THE TRAP (2018)
What do you think about 7 First Kisses? Let me know your thoughts in the comment!