If you don't consider it to be important, then other people won't either. And if you consider it as something serious, then others will think of it that way, too. That's how everything work. What happened in the past, it's not a big deal. You're the one who decides that. – Park Dong Hoon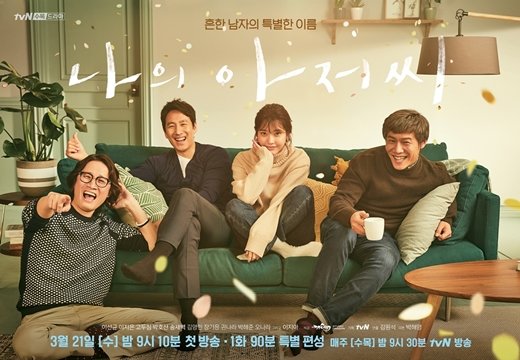 My Mister Synopsis : Park Dong Hoon is a middle-aged engineer who is married to attorney Kang Yoon Hee. However, his life is not that happy as he has two unemployed brothers, Sang Hoon and Gi Hoon, who rely on him. Moreover, his wife is secretly having an affair with CEO Do Joon Yeong, Dong Hoon's college junior but current boss.
One day, Dong Hoon receives an unexpected bribe and notices that his co-worker, Lee Ji An, saw him. Ji An is a young part-time worker at Dong Hoon's company who is drowning in debt and left alone to take care of her ill grandmother. Dong Hoon then gets entangled in his brothers' struggle to get back on their feet and the company's internal rivalry between the company's CEO and the people opposing him, all the while not knowing that CEO Joon Yeong wants to get rid of him and Ji An is working for the CEO. (Source: MyDramaList)
MAIN CAST
Lee Sun-kyun as Park Dong-hoon
Lee Ji-eun as Lee Ji-an
FANGIRL NOTES
Also known as My Ahjussi
Genre : Drama
It aired on tvN in 2018 for 16 episodes.
The drama received critical acclaim, winning Best Drama at the 55th Baeksang Arts Awards.
The cast similarly received praise for their performances, which viewers called 'life work' for all of the actors.
FANGIRL FEELS
This show is about friendship, kindness, family, community, forgiveness and so much more.
This is not a love story though, rather it is a life story. How the life of someone can be changed by showing kindness and respect.
I like IU's acting in this series. Every moment of screen time with her was a pleasure to watch. You could see that she was full of emotions behind that emotionless face and she gave away so much by saying so little.
The music is good.
"Even if you're having hardships in life, just hang in there. It's no big deal". One of my favorite quotes in this drama.
My Mister is definitely one drama that will leave a big impact to you if you take a chance to watch it.
My Rating – 8.5/10
YOU MIGHT ALSO WANT TO READ : MOON LOVERS: SCARLET HEART RYEO (2016)
What do you think about My Mister? Let me know your thoughts in the comments!
P.S. Not all the photos are mine. Credits to the owners.
Let's connect!