I have no idea what kind of trip this is going to be. I've never done anything like this. I don't know what to expect.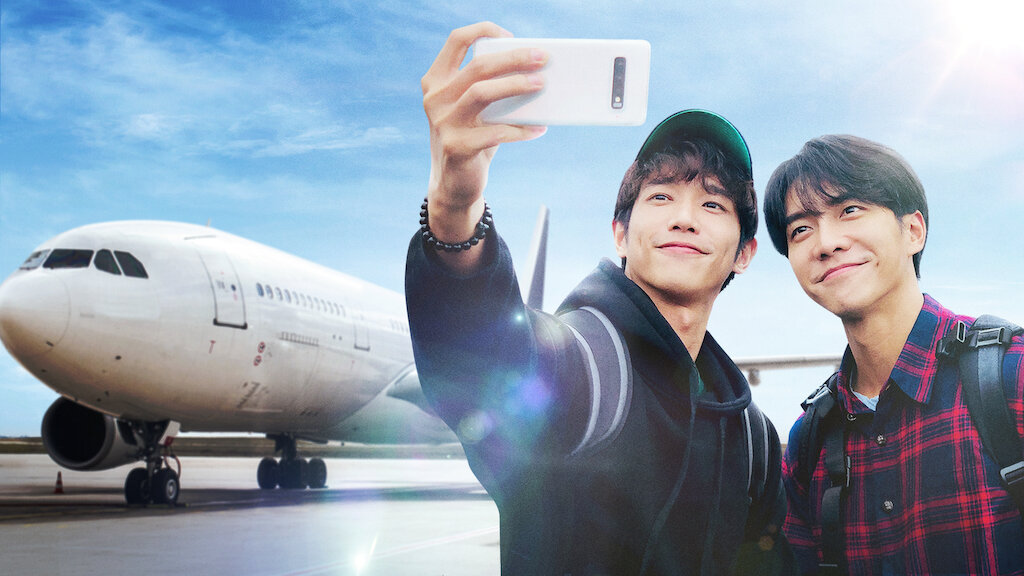 Actors Lee Seung-gi and Jasper Liu travel to six Asian cities (Yogyakarta and Bali in Indonesia, Bangkok and Chiang Mai in Thailand, Pokhara and Kathmandu in Nepal) where they must complete missions together, even though they do not speak each other's language, in order to meet their fans who recommended the locations they visited. (Source : Wikipedia)
MAIN CAST
FANGIRL NOTES
Twogether is a travel documentary and it was released by Netflix on June 26, 2020.
No. of episodes : 8
Filming began on September 2, 2019 in Indonesia and ended in the fall in Seoul.
TWOGETHER EPISODES
Episode 1 : The caves of Yogyakarta, Indonesia, offer a wondrous spectacle and tubing experience for the new pals as they search for clues to find their fan.
Episode 2 : An educational tour of Prambanan Temple ends with a dizzying pop quiz. Afterward, Seung-gi and Jasper draw a crowd as they play badminton with locals.
Episode 3 : In sunny Bali, Jasper dives into harpoon fishing while Seung-gi takes off paragliding. Their day ends with a not-so-relaxing couples yoga class.
Episode 4 : Playing games for clues in Bangkok's bustling streets and night markets, Seung-gi and Jasper meet other tourists and get a kick out of ax-throwing.
Episode 5 : After exploring the Damnoen Saduak floating market, the pair head to Chiang Mai, Thailand, where they go head-to-head in a goofy water bicycle race.
Episode 6 : As they compete against each other to find their Chiang Mai fan, Seung-gi realizes that his wily ways may have rubbed off on Jasper.
Episode 7 : Bad weather threatens the success of Seung-gi and Jasper's trip to Pokhara, Nepal, where they hope to catch a glimpse of majestic Annapurna.
Episode 8 : The buddies land in historic Kathmandu, Nepal, for a final adventure. Later, they board a Han River water taxi in Seoul to meet one last fan.
(Source : Netflix Official Site)
OFFICIAL TRAILER
Paired together for an unforgettable trip across Asia, stars Lee Seung-gi and Jasper Liu become buddies as they connect with fans and local cultures. (Netflix)
FANGIRL FEELS
I fell in love more with Seung-gi and became an instant fan of Jasper through this show.
This show is so much fun to watch and the way they spend the trip together though sometimes language barrier gets in the way, is really amazing and exciting.
I truly enjoyed this show, I couldn't stop laughing and smile all throughout.
I loved their bromance. They are so cute and funny together.
Seung-gi and Jasper's characters complement each other; one cunning and playful but at the same time very intelligent, while the other is innocent, shy and calm.
I really love how the two really care for their fans and they mean a lot to them.
I got teary eyed for the pure happiness of the fans. #RelateMuch #InggitMuch
Game is game and It's gonna be alright!
The only issue I had with this show is that it ended. I could've continued watching their adventures together for at least 10 more episodes.
If you need something to cheer you up, watch this. It will put a smile on your face! Highly recommended! Season 2, please!
My Rating – 10/10
YOU MIGHT ALSO WANT TO READ : LITTLE FOREST (2019)
Have you watched Twogether? Let me know your thoughts in the comments!
P.S. Not all the photos are mine. Credits to the owners.
Let's connect!